CLASS
Students attend Class Sessions through the CLASS Interactive platform.
Class in Canvas
All your regular content classes should always be joined from Canvas!
There are no resources or collections to display
Always begin by looking at your schedule in your Canvas Calendar (or Infinite Campus). Once you have determined when your class meets, go to that course in Canvas at the right time. In the Calendar example below, Math meets at 8:15 am and ELA meets at 9:30 am.
In the course, click on the Class button. Pay close attention to the Period number listed under Topic. At the correct time period for your schedule, click the Launch button indicated. Do not use the buttons at the top of the page.
The Class session will open in a new tab of the Chrome browser and you will find yourself in a Waiting Room. Please be patient! The teacher will let you in to Class.
Follow these steps for basic troubleshooting in Class.
Be patient! Each page for Class may take a moment to load. Pause a moment to let it load before clicking on anything. If, at any time, you still see this symbol spinning, please wait for Class to finish loading.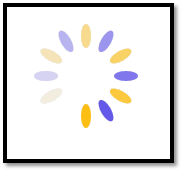 Because your are joining Class from the web, it's important to make sure your Chrome browser is updated and the cache is cleared. Use the linked articles below to help you.
Check to see that your camera and microphone are enabled in the browser after each time that you clear your cache.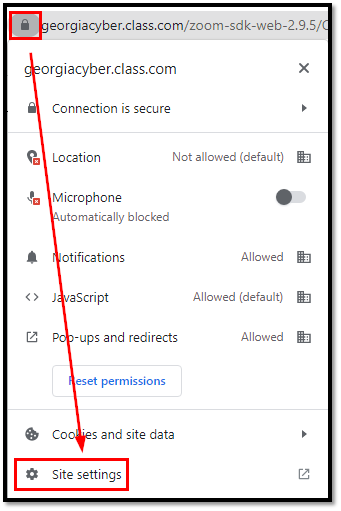 After you have allowed them in site settings, be sure to Reload the page to update the settings.

If you see the message shown below, you will need to check the site settings, as shown above, to make sure the microphone is allowed.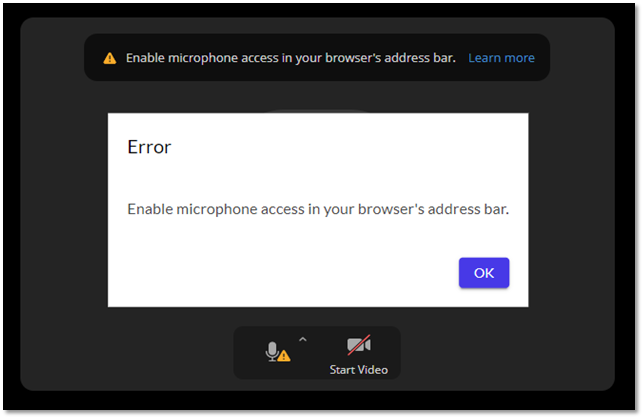 If you join the session and see only a black screen, refresh the browser tab of Class and join the session again.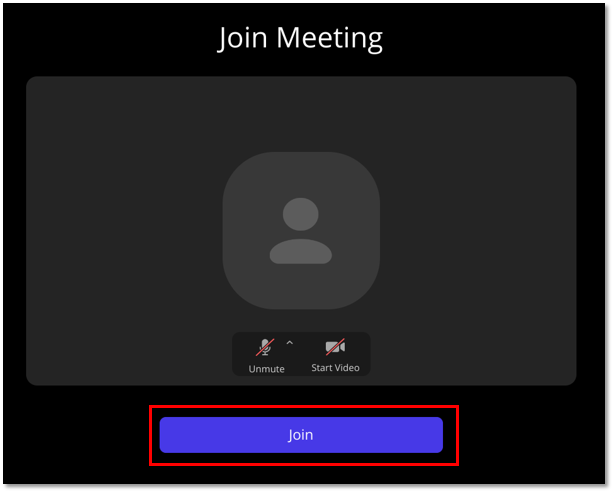 From time to time you may see an error message in Class. Below are common errors and how to resolve them.
At any time, if you see this message, choose OK and you will rejoin the session.

When a teacher has asked you to join a breakout room, if you see this message, simply click Yes and the meeting will have you re-join the session, sending you directly back to the breakout room.

You will need to enable your microphone (and camera, if needed) in the browser to resolve the error below.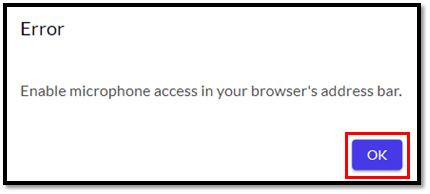 Click on the lock symbol in the URL field to find the site settings and allow the microphone and camera.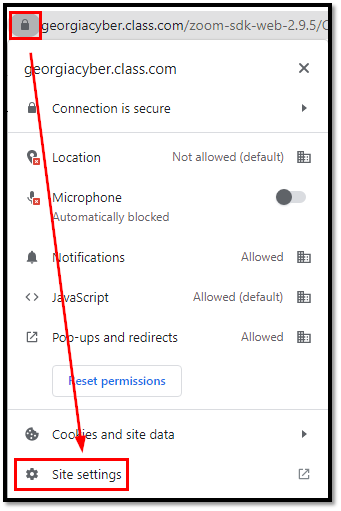 Be sure to Reload to update the settings.